Find Your Courage in First 'Dumbo' Trailer; Here's Everything We Know
Thu, 15 Nov 2018 18:28:45 GMT Disney's new, live-action Dumbo draws upon an animated film that was released during troubling times. Yet the original's simplicity and warmth attracted audiences in large numbers, and it subsequently has been recognized as a family classic. Now the first trailer for the new version has been released, presenting events initially from the perspective of two children at a circus before soaring outward. It, too, looks like a film with a positive spirit and an encouraging...
Watch Exclusive 'Creed II' Clip: You Better
Thu, 15 Nov 2018 18:00:00 GMT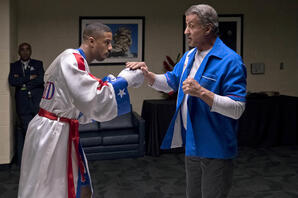 In Creed II, newly-crowned champion Adonis (Michael B. Jordan) is challenged to face the son of the boxer who killed his father in the ring. The great Rocky Balboa (Sylvester Stallone) returns to help him train, but there is something else that he needs. In our exclusive clip, Adonis sits down to have a heart-to-heart chat with Bianca (Tiffany Thompson), the love of his life. The boxer's relationship with the aspiring singer has only deepened in recent times, but she has expressed...
The Rock Returns to Wrestling in First 'Fighting With My Family' Trailer; Here's Everything We Know
Wed, 14 Nov 2018 21:53:23 GMT
Dwayne Johnson returns to the WWE ring every now and then, but he's mostly considered a movie star these days. But he's combining both worlds next year with the biographical comedy Fighting With My Family. The movie will feature Johnson playing himself in support of the story of the Bevis family of wrestlers. While Johnson, a.k.a. "The Rock," is not the star of Fighting With My Family, he is one of its producers and appears prominently in the first trailer, which made...
Comic Book Legend Stan Lee, 95, Passes Away
Mon, 12 Nov 2018 21:03:37 GMT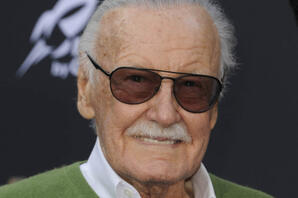 Comic book writer, editor and publisher Stan Lee has passed away, according to The Hollywood Reporter and multiple other sources. He was 95 years old. It would be impossible to underestimate Lee's influence upon multiple generations of comic book readers and creators, as well as movie lovers and filmmakers. He has left a lasting mark on popular culture, thanks to the textured and beloved characters he created and/or developed, including Spider-Man, Black Panther, The Fantastic Four,...
A Guide to the Enchanting Music of 'Mary Poppins Returns'
Mon, 12 Nov 2018 20:00:00 GMT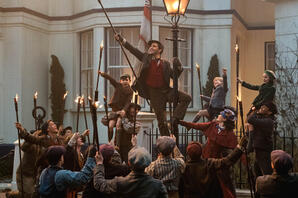 In an abandoned section of an old park in Depression-era London, with streets so dark, shadows merely shimmer like suggestions of shadows, a group of lamplighters – clad in jackets, vests, and clothes that would be almost dapper if not how worked-in they look – gather beneath streetlamps with ladders and on bicycles. They're performing "Trip a Little Light Fantastic" – an energetic, contagious song and dance number – the song in the forthcoming Mary...
Watch the First 'Pokémon: Detective Pikachu' Trailer; Here's Everything We Know
Mon, 12 Nov 2018 19:14:55 GMT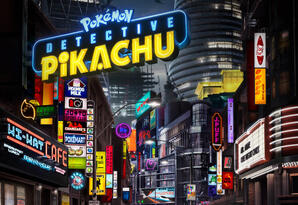 You weren't expecting that the first truly great video game movie would also be a Pokémon movie, did you? All signs point to the former being a possibility, with Warner Bros.' live-action adaptation of the Nintendo game Detective Pikachu, starring everyone's favorite snarky voice actor, Ryan Reynolds. The first trailer for the upcoming movie (watch it down below) hints that, thanks to Reynolds voicing the title character, this is sort of going to be Deadpool for...
Next 3 Major Family Movies: 'A Dog's Way Home,' 'The Kid Who Would Be King,' 'Dumbo'
Mon, 12 Nov 2018 18:00:00 GMT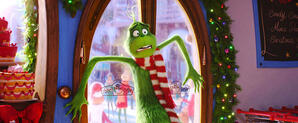 A cheerful comedy about a grouchy creature who doesn't like Christmas, Dr. Seuss' The Grinch, opened over the weekend to grand success. Benedict Cumberbatch, who portrays the titular character with gruff yet winsome authority, leads the voice cast in the animated holiday adventure, joined by Rashida Jones, Kenan Thompson, Angela Lansbury and Pharrell Williams. Dr. Seuss' The Grinch is ideal for families. More family films are coming soon to theaters, including Ralph Breaks the...
In 'Widows,' Crime Gets a New Face; Here's Everything We Know
Mon, 12 Nov 2018 18:00:00 GMT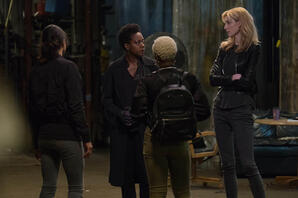 Crime thrillers offer audiences the opportunity to live vicariously through the heroes and villians portrayed on screen. Often those characters are brooding and brutal, manly men who have little time for the women in their lives; they are too busy planning spectacular crimes and scheming how they'll spend their ill-gotten gains. Widows flips the book, so to speak, smashing stereotypes and placing a strong group of women at the heart of an intense crime drama. The film has received very...
The Week in Movie News: Spielberg Revisiting 'The Color Purple,' First 'Missing Link' Trailer and More
Fri, 09 Nov 2018 22:32:26 GMT
Need a quick recap of the past week in movie news? Here are the highlights: BIG NEWS Steven Spielberg is redoing The Color Purple as a musical: Steven Spielberg is revisiting his first serious drama by producing an adaptation of the Broadway musical version of The Color Purple, partnering again with Oprah Winfrey and Quincy Jones. Read everything we know about the remake here. GREAT NEWS Chris McKay is directing...